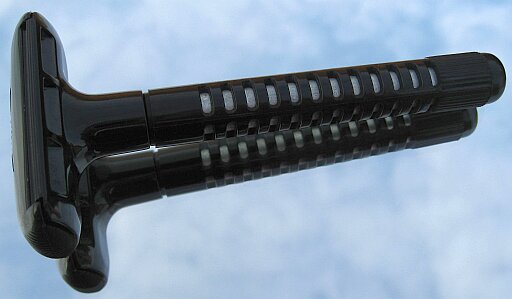 Energizer are a massive American conglomerate who own the Schick and Wilkinsons Sword brands. So obviously they want to maximise their profits by selling us multibladed system razors, which is why they are currently investing hundreds of millions into getting us to use their new Hydro razor which I have already written about here.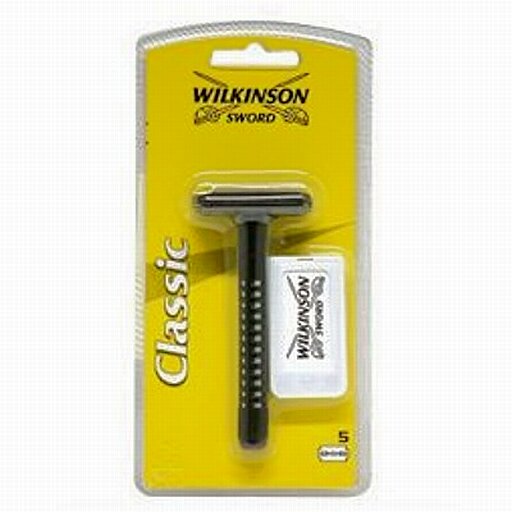 Against this background I find it amazing that they still supply traditional double edged (DE) razors, this is something that Gillette, who dominate the market, gave up in the West years ago. The razor in question is called the Wilkinson Sword Classic and it is a very nice piece of kit. Everyone should have one.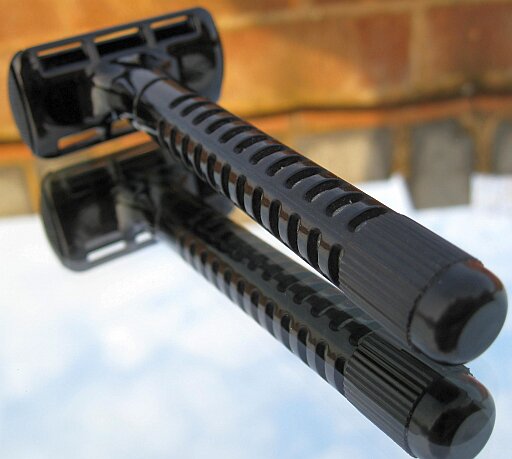 The Classic is made primarily out of black Delrin plastic with a metal rod up the handle to give it good mass and balance. The head is PTFE coated to work smoothly and is a little wider than most, as it protects the shaver from the blade's side tabs. Inside the head the blade is located on a slot which is the best method and ensures total rigidity. The handle is quite long and has a fantastic design that allows a very good shaving grip indeed.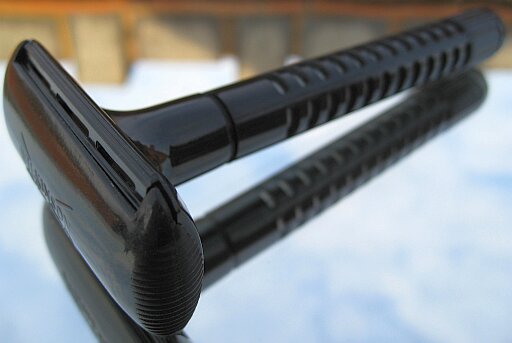 It is a mild shaver and, if you have mastered the basics of DE shaving technique, it just never bites. I think a lot of multibladed system razor users buy one of these to try because of the cheaper blade price so it would be nice if it came with DE shaving instructions. Also, perhaps, a lot of more experienced DE shavers look down on the Classic because it is so cheap. Their mistake.
There is a lot more to how a DE razor head works than mere blade exposure. So it is with the Classic, if you move it to an angle where it could dig in then the profile of the head seems to lift the blade edge away from your skin. This gives it a very strange feeling on your face as you experiment with the shaving angle because sometimes it feels like there is no blade there.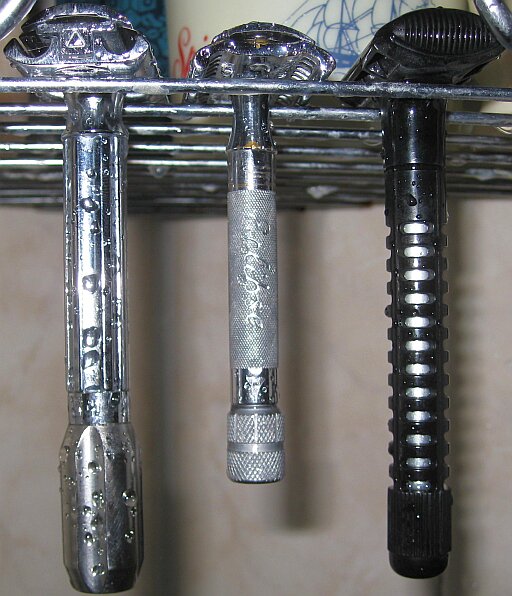 I use the Classic primarily as a third pass razor, after most of the stubble has already been removed with more aggressive razors. With it you can get as close a shave as you could ever possibly want. It will buff against the grain with enthusiasm in a way that you just would not dare attempting with most other razors. It really will give you that perfect smoothness.
Then there is the price. Around £4 (or less if you shop round) with 5 blades included. This is an incredible bargain that rates alongside Palmolive shaving sticks, Super-Max blades and Turkish horse hair shaving brushes. All superb quality products that some brand snobs would miss out on just because they are ridiculously low priced.
Disclaimer. I paid for my own Wilkinson Sword Classic razor.