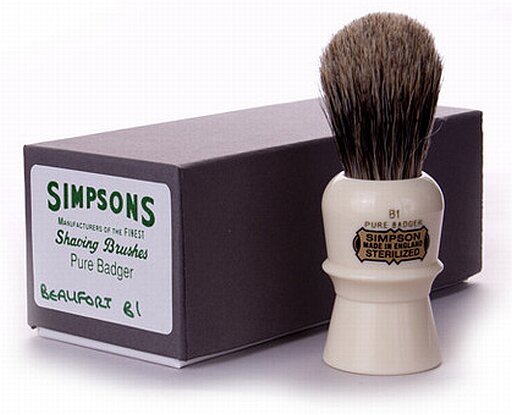 I just bought a Simpson's Beaufort B1 pure badger shaving brush and thought that I would justify my actions here.
For a hand made Simpson's brush the Beaufort B1 is very inexpensive. On the Simpson's website it is £16.55, but add in £4.95 P&P and £4.30 VAT and it becomes £25.80. The normal cheapest source for Simpson's brushes is Diamond Edge, here it is £15.15, but add in £2.55 P&P and £3.03 VAT and it comes to £20.73. Still around a 20% saving on Simpson's own price. So it was remarkable when Badger and Hone launched their new website and it was there for just £18.99 including P&P and VAT. Even more remarkably they had a first week discount of 15% for members of the Pogonotomy forum, so the brush cost me just £16.14 delivered to my front door. That is around just 62% of the Simpson's price. The temptation was too much.
The Beaufort has one of the finest handles Simpson's make. It looks like a less extreme version of the handle on their Keyhole brush, but in fact it is an almost exact copy of the vintage Coates EJ3. The Coates company amalgamated with Simpson's and it looks like they just changed the name on the handle.
Simpson's make their brushes in three grades. Pure, Best and Super. With the Vulfix takeover of Simpson's all three grades are getting praise. But the Pure, which is the least expensive grade and which is what is used in the Beaufort, is the stiffest and so will, everything else being equal, have the most backbone and the least soft tips. I have tried pure badger from other brands and it can be quite nasty, hopefully the Simpson's Pure will be just right to give that good exfoliation that a shaver sometimes wants, without being too brutal.
I wanted a small brush, for travelling and for face lathering accurately. The problem with most small brushes is that you get less of everything, but with Simpson's you get their legendary knot density. So this should be a small brush with the heart of a far larger brush. Maybe the best of both worlds. And combined with a shaving stick it has the potential to be a great lather-on-the-move machine.
I will give you more feedback on this brush once it has had some use. Meantime a little birdie tells me that Badger & Hone may be running their 15% off deal for a second week because they had some website teething problems in their first week. Keep an eye on the Pogonotomy forum for updates.