In part one we dealt with the boar, horse and synthetic brushes. Now it is time to deal with the badgers. As you can see I am a victim of the hype and the marketing with a disproportionate number of these brushes compared with, say, the excellent horse hair brushes. In my defence I would say that these brushes were each bought with a reason. And the sad thing is that I can think of good reasons to buy plenty more!
Frank Shaving:

The brushes that shocked the traditional shaving world. High quality build and performance direct from Ian Tang in China for a fraction of the price of more traditional offerings. From the top a white then a black handled finest, then a silvertip, a short lofted best and a short lofted silvertip. These are fantastic to use and set the benchmark for low cost badger brushes.
Meet the Simpson's:
Widely regarded as the best shaving brushes in the world I am amazed that I have got away with only having five. Some people have vast collections. They work just as good as they look, if not better. Simpson's have a fantastic range of brushes that are often very different to one another. Here is a Duke 3 in best, a Milk Churn MC2 in best with a strangely asymmetrical knot, a Commodore X1 in best, a Beaufort B1 in pure and a Wee Scot (an amazing brush) in best.
Some English shaving brushes:

Firstly two Trumper brushes, a super badger and a pure badger, that have seen considerable use and which are still excellent, then my very favourite brush a Morris & Forndran blonde badger. Then an Edwin Jagger best in faux marble, a Taylor's of Old Bond Street pure and a New Forest 2201 in 2 band best badger.
Custom brushes:

Regular readers will have met all of these before. Firstly a Penworks with a cream handle and an immense finest badger knot, also a Malachite handled Penchetta with a super badger knot. Then two prototype Rooneys, candy stripe and metal based, both in super badger. Next come two beejay restorations, a Boots catalin butterscotch with a Frank Shaving finest knot and a Rubberset with an iKon silvertip knot. Finally we have a total beejay creation, his hand made Yew handle with a Golden Knib silvertip knot in it.
Odds and Ends: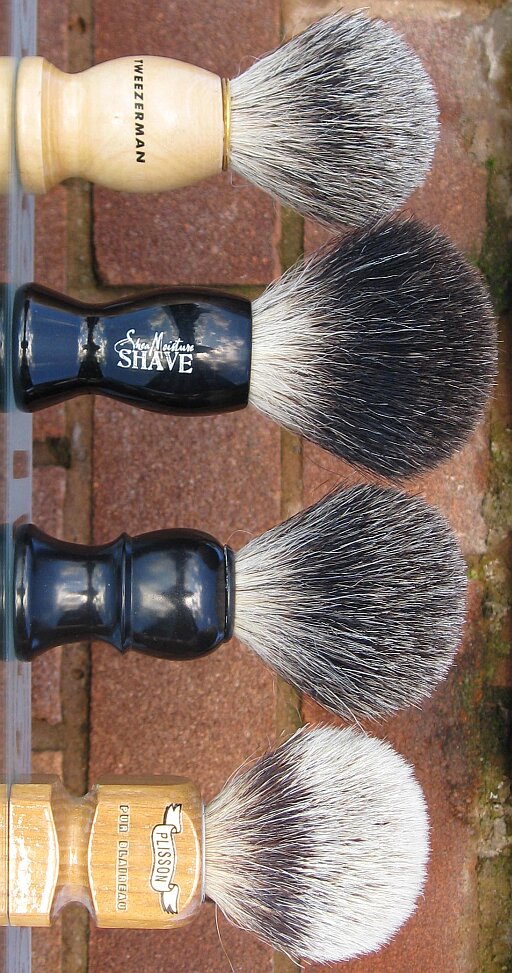 Firstly a Tweezerman which is popular in America where it sells for $15, which is good value, but nothing compared to Frank Shaving brushes. Next is a Shea Moisture which sells for $9 and which works. Then a LiJüN & 1980 pure badger which cost me £0.99 (but £6 P&P) in pure badger which is easily the worst brush in these articles, however the more expensive offerings from this vendor have a good reputation.Finally we have the Plisson European grey badger in an olive wood handle, an eye wateringly expensive brush with a cosmetically beautiful knot which is more than a bit floppy.
As you can see this is an eclectic collection and by posting it up you can see the amazing variety that there is out there.