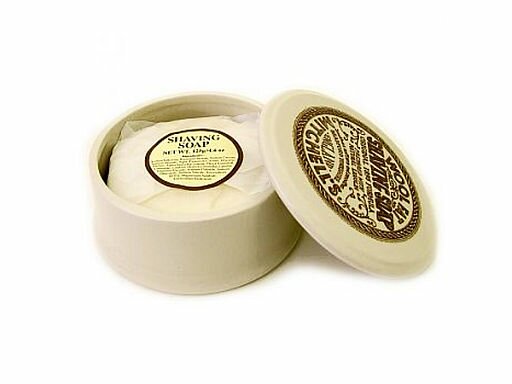 As a demonstration of the luxury, the joy and the experimentation of Real Shaving I thought I would list my current shaving soaps and creams. This is not showing off, anyone can spend a bit of time and a bit of money. It is more to show the possibilities.
Soaps.
Nanny's. The Herby one. Very different smell.
Nanny's Gentleman's Lavender. An explosion of smell.
Both of these are soft soaps that have been developed over several generations with the help of real shaving forums. They use all natural ingredients and give a great shave. However for me the lather doesn't seem to stand up quite as long as the more commercial alternatives, but then there are less chemicals in it. Definitely nice to use and well worth a try, recommended.
The Goats Milk soap company. Bentonite Shaving Soap. Another artisan soap. A lot of love and the finest ingredients go into this. However it doesn't work for me, the lather collapses very quickly, whatever I do to it. This doesn't mean that it won't work for you.
Mitchell's Wool Fat. So a chemist notices that shearers have very soft hands so makes a soap with wool fat to create the same effect. And it works. Look at their website and you can see how bad their marketing is. This is a pity because this is the gold standard shaving soap.
Palmolive shave stick. Tallow based soap that works fantastically. For a maximum of 60p. Every real shaver should have some of this. You rub it into your stubble like a big crayon then lather it up with a wet brush. The American version is different which is why there is a steady flow of the European version across the Atlantic in tourist's luggage.
Proraso. An Italian soft soap. Less bracing than their cream but far more economic.
Trumper's Violet. Luxury and economy. A puck of this will last you at least a year and the violet is supposed to be very good for sensitive skin.
Cella Crema da Sapone. Another of the famous Italian soft soaps. With almond essence. Lush and creamy. One of the great classic soaps.
Creams.
Proraso. A must have, the menthol and eucalyptus are so bracing that you can feel it for long after the shave. Perfect in the summer.
Bodyshop. This is the old, discontinued, yellow coloured shaving cream. Very good.
Bodyshop Maca Root. Very different and distinctive and a quality product, as you would expect.
D.R Harris. Arlington. Their signature scent. Expensive, but pure unadulterated luxury.
Nanny's shaving cream. Warm Spice.
Nanny's shaving cream. Eucalyptus and Tea Tree.
Like her soaps these are made only from the finest natural ingredients and in consultation with the real shaving community. Excellent stuff. The travel sizes are convenient.
Taylor's of Bond Street. Avocado.
Taylor's of Bond Street. Eton College.
Two very famous shaving creams from one of the 3Ts. If you are in London pop into their Jermyn Street shop. You will come out with a bag full of swag.
Trumper's Rose.
Trumper's Violet.
Both excellent. Much more aroma than the equivalent soaps and quicker to use. Luxury products.
Palmolive. Cheap and works well. Completely different to the Palmolive soap, just look at the ingredients list.
Godrej, menthol mist. From India. This explodes on your face more than Proraso and is a great cream at a bargain price.
L'Occitaine, CADE. Very high quality French cosmetics using fine ingredients. The soap is more highly regarded than the cream. But the cream is still excellent.
The Real Shaving Company, double concentrated professional shaving cream. Made by the same people who manufacture for some of the St James's luxury brands. This can be bought very cheaply at discount cosmetic type supermarkets. It works very well for the price.
As you can see I have picked mainly the low hanging fruit. I am not putting effort into increasing this collection, there is already enough there to last several years. However I do have a wish list:
La Toja shaving soap stick. 200 years of heritage in this, from a small Spanish island. Has an incredible reputation. Will buy next time I am in Menorca.
Arko shaving soap stick from Turkey. Another famously good soap. Costs peanuts. Very strong lemon scent.
Svoboda cream from Russia. The Russians don't use shaving soaps. This is meant to be their finest brand and has been made since the early 1900s.
The above list illustrates a few things, the quality and variety of products shines through, these really put the aerosol gels and foams to shame, yet can be cheaper to use! Then there is the fun and personal nature of real shaving, each morning you can choose what you are going to use according to your mood. Also the global nature of real shaving, there are truly excellent products to be had from all around the world. And finally there is the liberation of not being tied in to the big shaving brands. You can do what you want.