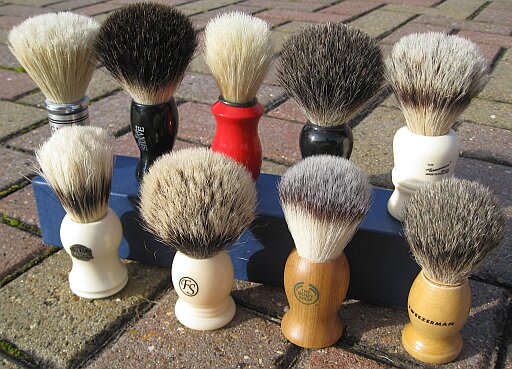 When it comes to shaving brushes you definitely don't get what you pay for. Some brands buy their stock in China and then add on enormous profit margins to inflate the price that the customer pays. Other brands still do some manufacturing work in the West with vastly higher labour costs. Then there are small entrepreneurs who are buying at the factory gate in China and then selling direct at a sensible price. And there are some fairly big non shaving specialists doing the same thing. So let's look at what we have here starting with the back row from left to right.
Jaguar. From Turkey this is by far the best boar bristle brush here. The large, flat topped knot really loads up nicely with hard soaps, putting the maximum number of bristles onto the puck. The let down is the detail finish of the handle which is not perfect. But for about £5.50 you can't expect everything.
Shea Moisture. Ultimate Shave Brush presumably in pure badger. This brush is OK. The plastic handle is a bit light but has no moulding marks, the knot is well made but a bit scritchy and a bit floppy, but it is big enough to hold a good charge of lather. These are sold at Target in America and online by Shea Moisture for $9, which seems fair enough.
Generic Chinese bristle. With red painted wooden handle, if you look you can see how the knot has been shaped with a pair of scissors, so there are no proper ends there to split. This brush will do its job, but you will appreciate it when you upgrade. These sort of brushes are found on eBay and in discount stores at £1 to £2, the pricing is just what the vendor feels like.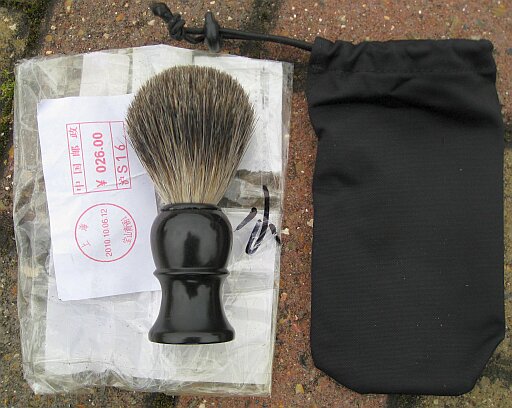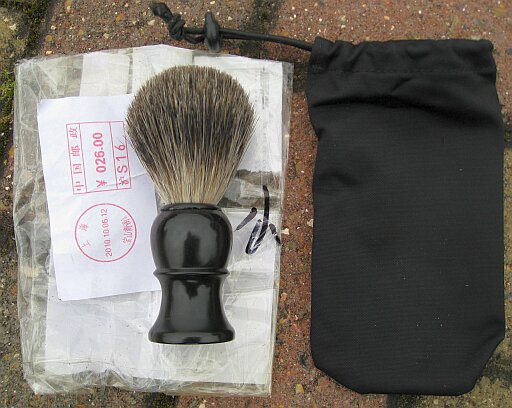 LiJüN & 1980. I bought this off eBay for £0.99 (but with £6 carriage from China) and was amazed when it turned up in a thin cloth bag in a polythene bag, with no padding or protection. It is described as "Finest Pure Badger Hair" and is by far the worst badger brush that I own. The handle is light with moulding marks. The knot is well made and not as floppy as the Shea Moisture, however it is very prickly. It is only fair to say that this is just one of a range they offer and some of the more expensive brushes look a lot nicer. In the community experiences are mixed with some favourable reports and some less so.
Vulfix 404. The Grosvenor mixed bristle and badger. One of the best brushes at any price and this costs just £9.20. It has a fantastic, heavy, properly turned handle. Some people buy these brushes just for the handles and re-knot them, you can see why. The 404 mixed will create a lather out of a difficult soap like a Mitchell's Wool Fat or a Williams better and quicker than just about anything else and it will also work just brilliantly with creams. It has exactly the right firmness and size of knot to be an all round star. But there is something very strange, everyone knows that Vulfix is in the Isle of Man, yet these brushes are marked "Handmade in England" and the Isle of Man is not in England.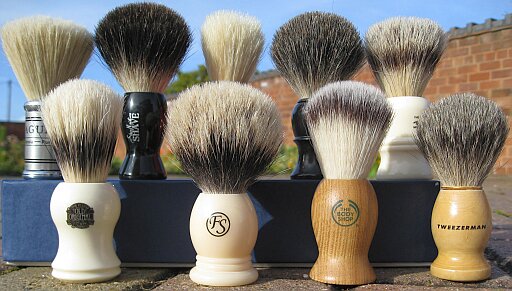 Now the front row from left to right:
Vulfix VS5. You wonder why they bother with this pure bristle brush, at £4.39 it is far less than half the brush the 404 is. The handle is far lighter and you can feel the moulding marks and the knot is too small for a boar. Interestingly this one says "Handmade in UK" and the Isle of Man is not in the UK. I would love to know what is going on here.
Frank Shaving. I have written about these several times, this is my original $9.99 Finest. The handle feels weighty and though it may be moulded there are no signs of this. The knot is well made and has slightly less backbone than the 404, but it has less scritchy tips and holds a fair bit more lather. The Frank Shaving Finest genuinely feel like and behaves like a far more expensive brush. A point that a lot of users have now made.
Body Shop. This small, wooden handled brush cost £5.50 and has synthetic bristles, it still works well and has really soft tips. Best of all it dries rapidly after use so makes an ideal travel brush.
Tweezerman. 100% badger hair, made in South Korea. Presumably with a Chinese knot. Another small, wooden handled brush this has softer tips than the Frank Shaving Finest and a similar backbone, but the bloomed knot has only about half the total volume, which is a huge difference. This brush sells for about $15 which is good value.
So, in conclusion, out of this small batch the Vulfix 404 and the Frank Shaving Finest are way ahead. The Jaguar is a very fine boar bristle brush for the price and the Body Shop brush is good value as a travel brush.