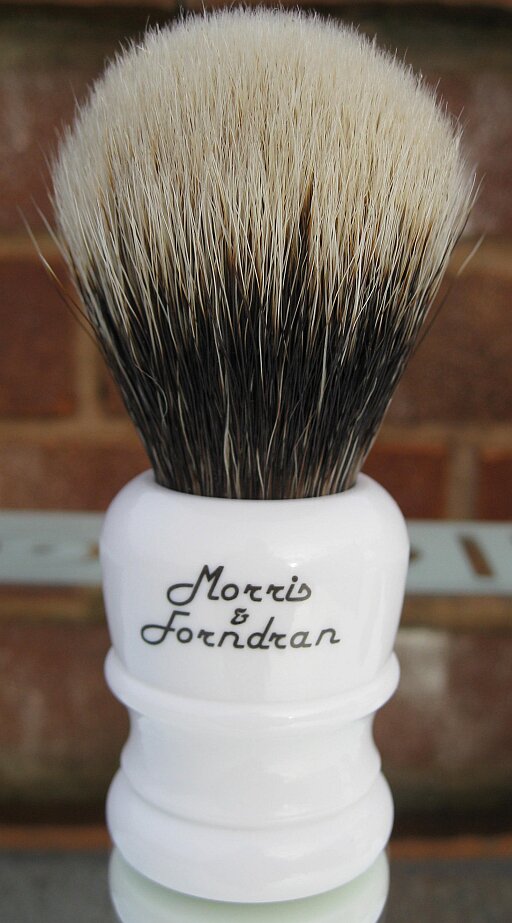 A lot of people have recently seen the light and come over to real shaving. They see the products and industry as they are but they don't see this history, the back story and what is happening and what has happened in the industry that supplies them.

The classical English shaving brush is a prime example. Just after World War II every man in Britain who shaved used a brush, the manufacturers who met this demand also supplied the British Empire and other countries in the world market. So it was a large and thriving industry from inexpensive plastic Culmak brushes to solid gold handled Simpson masterpieces. Then aerosol shaving foams came along which were a lot more convenient (yet far less good) and the whole industry pretty much went the way of the dinosaur. Even Simpson's went bust.
At the top end there was still some business, mostly from the famous St James's grooming shops like Trumpers and Taylors of Old Bond Street. These retailers buy their brushes in from Vulfix, Rooney and other workshops but always the brushes are branded up with the name of the retailer, never with the name of the manufacturer. This is sad because each manufacturer has a lot of unique proprietary heritage that goes into their brushes. A Rooney is made a lot differently from a Simpson's, for instance. The knowledge is handed down through generations of craftsmen and, remarkably, survives changes in company ownership.
Some of the shaving brush workshops survived by putting their skills to different uses. They knew how to machine resin so could make parts for lots of different industries, from pens to backgammon pieces. Then when an order came in from St James they would run off a batch of brushes. To add to the flexibility needed for survival some of the manual processes could be done by home workers, who were trained up with the necessary skills. Jobs like weighing the hair for each knot, for instance.
Morris & Forndran are one of the brush companies that have survived, founded in the 1930s, they were present at the 1947 British Industries Fair where they were listed as manufacturers of Ivory Brushes, Mirrors, Wood Brushes, Tortoiseshell Brush Sets, Silver Mounted Brush Sets. Fitted Dressing Cases. Cigar and Cigarette Boxes in rare Woods and Shagreen. Combs in real and imitation Tortoiseshell.

Recently they have changed ownership and all the original equipment has been moved to a new workshop in London. Traditionally Morris & Forndran sold their brushes under the name of the retailer selling them but under the new ownership they are starting to supply small numbers of high quality, traditional, English brushes under their own brand name. These brushes contain 80 years of Morris & Forndran heritage and manufacturing techniques so they are different, once again, from a Simpson's or a Rooney.

But they are a very small company. To put it in context the biggest quality brush producer by far is Progress Vulfix in the Isle of Man, they manufacture under the Vulfix and Simpson's brand names but they also produce the brushes sold under the retailers own name in lots of shops all over the world. Yet this industry giant employs around just 15 people.
Nowadays the customer value in badger shaving brushes lies with the Chinese manufacturers such as Frank Shaving and LiJun who have close access to the raw materials and cheap labour. The next step up are the many Western brush brands that put a Chinese knot into a Western handle. But if you want real hand crafted quality and heritage then you cannot beat a traditional English brush. They cost a lot of money but you are getting what you pay for.

In the pictures you can see the brush that Morris & Forndran sent to me. It is classical and beautiful, an exceptionally well made work of art. It is made out of what they are calling Blonde Badger which, as you can see, is a two band with nearly white tips and a pronounced bulb shaped knot which is mounted in a strikingly porcelain white handle. According to my vernier it has a 24mm knot diameter, a 53mm loft and a 47mm handle height. It has plenty of backbone and the tips, whilst soft, are not super soft so provide a good face massage. This will be just amazing at face lathering hard soaps like Mitchell's Wool Fat as well as being an excellent all round brush.
So what's it like to use? Pretty close to perfect actually. It is sized somewhere near the top end of a face latherer, which works well for me. The knot shape is primarily bulb (the centre two thirds) with a bit of fan in there (the outer third), this gives lots of control over the lather without being too pointy. The brush loads up very quickly and easily then releases the lather exactly how and when you want, it easily holds enough charge for a three pass shave. The backbone is spot on, certainly not floppy yet not too rigid. Likewise the tip softness, luxury without being a mop. And the density is just perfect for holding a big charge without being a lather hog. All this will get even better as the brush breaks in with a bit more use. Overall if I had to choose just one brush from my collection, right now this would be the one.
Disclaimer: I did not pay for this brush.