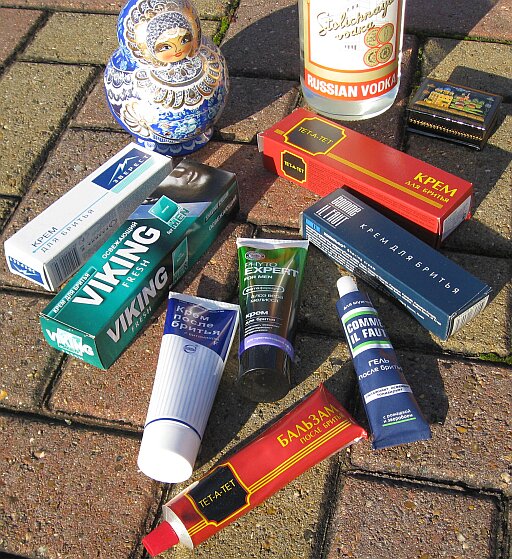 I am lucky in that my wife doesn't just tolerate my male hobbies, she takes an active interest and contributes. We watch F1 races and football matches together, at the pub she will take a small sip of the different real ales so as to understand their allure and she loves blatting around the Warwickshire lanes in the Caterham. So it is with shaving, as presents she has bought me many St James's soaps and creams over the years, also a fine Trumper's shaving brush and, earlier this year, my Mergress razor.
Which brings us to Russia, a huge nation of 142 million people where most of the men are traditional wet shavers. So there is a big market for shaving consumables, and it is a market where shaving creams are favoured over shaving soaps. In the modern, capitalist, Russia free market competition dominates so there is plenty of competition to give this large customer base the creams they want, this has led to a proliferation of high quality products.

Unfortunately these excellent creams (and after shave balms) are pretty much unavailable in the West. Perhaps because it is not worth the logistics for such low cost specialist items, perhaps because of the barrier that Cyrillic script presents, or perhaps because the manufacturers cannot be bothered. However there is a part of the world that was a part of the Soviet Union and that is now in the West and that is the Baltic states of Estonia, Latvia and Lithuania. These small countries are now in the European Union and NATO yet they have sizeable ethnic Russian minorities who like to buy Russian goods. So, uniquely, in these countries the West and Russia coexist culturally. In the language, in the food and in what you can buy in the shops.
You can see where this is going. Yes my wife goes to Latvia several times a year. And yes she brings me back the shaving creams and aftershave balms. And yes, they are excellent.
You never know, by publicising this it could increase the demand and/or the supply of these creams to Western traditional shavers, which would be a good thing as you can't get too much choice.