History can teach us many lessons and this applies to shaving as much as anything else. Until the 20th century anyone who could be bothered to shave (many didn't) used a straight edged cut throat razor, or more normally went to a barber who used one. But then King Camp Gillette achieved one of the greatest marketing coup d'états in history. Towards the end of World War One America decided to join in and sent millions of troops to the European trenches, they were each supplied with a Gillette safety razor (you can still buy these sets on eBay). Once these soldiers got home they didn't want to know about cut throat razors any more and the word spread. Very quickly indeed the double edged (DE) razor took over. It was a sudden shavepocalypse for the cut throat but these dramatic looking razors still linger on amongst niche hobbyists.
Gillette (now owned by Procter & Gamble) makes its most money from having a monopoly in supplying blades for its patent protected razors. In the 1930s the patents on DE razors and blades ran out, so anyone could make them. Gillette responded by adding patent protected features to their razors, such as aggressiveness adjustability, but still anyone could manufacture the blades to go in them. It was not until 1971 with the two bladed Trac II that Gillette created a new patent protected blade supply monopoly.
Nowadays in the developed world Gillette are by far the dominant supplier of shaving equipment with their Mach3 and Fusion razors, however they have a problem with the developing world, where most of the world's shavers live. About half the world's population live on less than a dollar a day so they just don't have the money to buy blades for Mach3s and Fusions. What they do have money for is DE shaving, which is inexpensive precisely because it is not patent protected. But DE razor blades are a commodity item that anyone can make so there is not much profit there.
Gillette have answered this conundrum with a stroke of sheer genius. They have engineered a patent protected system razor specifically for the developing world. It has just enough features to differentiate itself as a superior product to the DE razors it competes against yet clever design makes it and its blades very low cost to the end user and even lower cost to manufacture. This could very easily be the most significant event in shaving since Jean-Jacques Perret invented the safety razor in 1762. And it is called the Guard.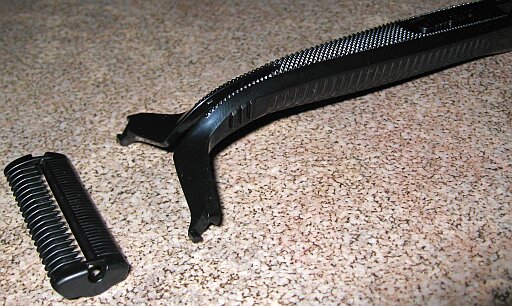 Gillette have very definitely set themselves up to replace DE shaving here. Here it is in their own words: "Gillette Guard is a breakthrough new shaving system designed to provide a safe, high-quality shave at an affordable price for more than one billion men in emerging markets who today shave with double-edge razors." This is a huge threat for Western DE shavers, we rely on the huge mass of DE shavers in the developing world to assure our supply of razor blades. If the developing world does as Gillette wants and shifts over to the Guard then it could be shavepocalypse time for us.
Obviously the Gillete Guard merited a closer look so as soon as they (inevitably) came up on eBay I ordered a pack containing four razors, each with a blade and eight additional blades. All of this cost me $6 (£3.72). And now I have had a good chance to play with them. They are masterpieces of engineering design and production. Every fraction of an ounce counts when you are going to make billions of something and when price is one of the main drivers. So the Guard has, according to Gillette, 80% fewer parts than a Western system razor and it is evident that it is constructed just heavily enough for permanent use and not to be a disposable.

The razor itself is just two pieces of plastic (a top and a bottom) glued together, the tuning fork ends splay out to form the hinge and are squeezed to get the cartridge on and off. You couldn't make it any simpler. The cartridge is just one piece of plastic with 4 little hot weld on it where the tiny sliver of steel that makes up the single blade is located. There is so little steel in this that it wouldn't surprise me if Gillette can make one of these shave heads for less cost than they can make a DE blade. So just four components are needed to make up the entire shaving system.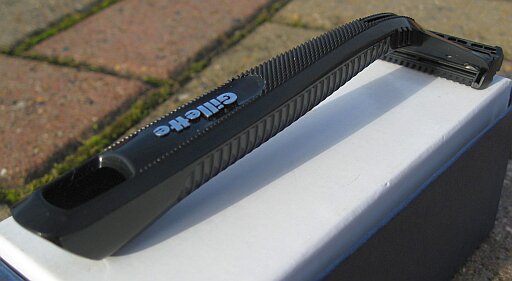 Now lets look at the features and benefits that Gillette hope are going to make hundreds of millions of men make the switch over from DE to the Guard. Here they are, once again in Gillette's own words:
Comb Guard: The revolutionary Comb Guard feature, first time ever on a razor, helps to automatically manage skin bulge on the face and serves to flatten the skin for a safe shave while minimizing the risk of nicks and cuts. Comb Guard is designed to reduce cuts and irritation, even when you press the razor while shaving. Whereas a double edge blade might cut, if you press it slightly hard against the skin.
No clogging: The blade on Gillette Guard can be rinsed conveniently, enabling cut hair to be easily washed away. Thus, facilitating the consumer to experience a more hygienic shave.
Swivel head: Gillette Guard has a flexible, swivel razor head that helps in maneuvering around the curves on the face and neck during a shave. The swivel head of Gillette Guard enables the consumer to cut hair in the area under the nose – a fairly difficult area for a user of double-edge blade to shave because the ordinary razor does not have a swivel head.
Ease of cartridge change: The single squeeze cartridge loading system of the Gillette Guard, a simple squeeze two-point intuitive docking – is an innovation in design that makes it much easier to change the blade of a Gillette Guard with less steps compared to fitting a double-edge blade to an ordinary razor.
Enhanced glide while shaving: The grooves on the cartridge of Gillette Guard above the blade helps to hold in water during the shave in order to enhance the razor glide. Whereas Double edge razors have no such provision.
User-friendly handle design: The Gillette Guard handle has also been designed to meet the needs of the consumer during and after shaving. The ergonomically designed handle enables the user to experience ease of maneuverability during shaving. This ribbed and lightweight handle will help the consumer to have better control while shaving, even when it is wet. The broader and thicker end of the razor handle is the rinse grip feature that enables consumers to hold it vertically while rinsing the razor. There is also a "hang hole" at the end of the razor handle that enables consumers to hang it to dry after shaving.

I have to say that I hope that Gillette haven't patented the comb guard and the grooves above the blade. In their marketing spiel above they say "first time ever on a razor" and "Double edge razors have no such provision" yet if you look at the pictures of my 70 year old Eclipse Red Ring DE razor you can see what to me look like the same features.
So how does the Guard shave? The first thing you notice is that the handle feels very long, this must have been done deliberately as a differentiator from DE razors. The head swivels nice and freely to adopt the position that Gillette's boffins want it to. Then it shaves quickly and easily, there is no getting away from the fact that it is ridiculously easy to use compare with a DE razor. But it is not anywhere near as fast as the Hydro system razor I used the other day. But then the shave head doesn't clog up anything like as easily with the Guard. The first shave gave an OK result so I lathered up for a second pass and got an acceptable shave. Not DE good, just acceptable. It gave me two very, very small weepers in the goatee area but these were really nothing.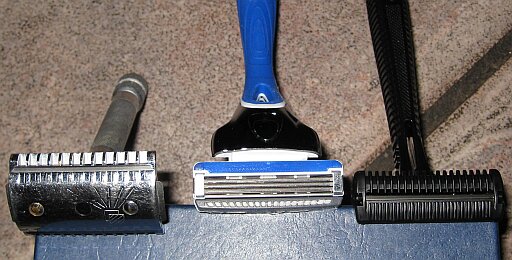 Just now an Indian Rupee is 1.4 British pennies, 2.3 American cents and 1.6 Euro cents. The Guard razor with one blade is priced at 19 Rupees with a 15 Rupee trial offer but obviously it will be discounted by traders, the blade cartridges (where Gillette will make their real money) are 7 Rupees with a 5 Rupee trial offer and Gillette are saying that they are good for 7 shaves. So one Rupee or less per shave, which is a lot more expensive than DE razors but a whole continent cheaper than the multibladed system razors that are prevalent in the West.
So will Gillette succeed with the Guard? With such an excellent product and with the normal Gillette marketing steamroller the answer has to be yes. The real question is how far will they succeed. Obviously they will roll this out in the Indian subcontinent, China, Africa, much of Asia and the former Soviet states. There will be pockets where the price is still too high, but generally it will be affordable. The Guard could very quickly and easily become the most used razor on earth, which must be what Gillette are planning. It is just a matter of time scale.
Gillette would be fools not to convert their DE factories over to Guard cartridge production, firstly because there will be far less demand for DE blades and secondly because the Guard cartridges will be a lot more profitable for them. So DE shavers will presumably lose a lot of the best brands of blades. It then remains a question as to whether there will be enough DE blade demand left to keep the other, non Gillette, DE blade factories open. Shavepocalypse beckons for DE shavers, time to build up the stash.