India is a country with hundreds of millions of wet shavers, many of them still using double edged razors. So, naturally, it is the source for much traditional shaving kit that we are familiar with in the West, lots of different shaving creams including the famous Godrej, razors from Parker and blades from Vidyut and Malhotra. All that's missing is a brush. So I was intrigued when I found that Connaught Shaving were selling an Indian brush on a well known auction website. £4.70 and it was mine.
The brush certainly looks very different with a two part handle, the base of which is lathe turned wood on top of which there is a black aluminium "socket". It is made by Single Sons (India) Regd. in Delhi, who also make brushes under the Taiwan Shaver brand name. Interestingly they have a web site which seems to be mainly geared up to tell us that they are ISO certified. However they say: "Single Sons (India) is established since 1948 and is into manufacturing of beauty salonequipments.We thank you for using and appreciating our products since last 60 years, we are proud to serve you with our best quality products to enhance your personality.Also we thank you for making our brands India's most trusted brands in beauty salon equipments."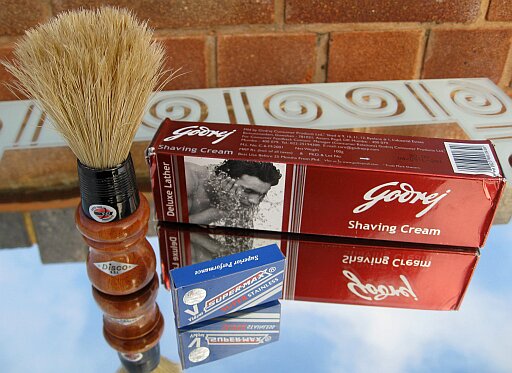 Taking my vernier to it the wooden base has a height of 43mm and the aluminium socket a height of 25mm for an overall handle height of 68mm. The knot has a 20mm diameter and a 59mm loft. So the overall height of the brush is a towering 127mm. The overall finish is quite good with a nice grain to the varnished wooden handle. It is no Rooney but it is a whole lot better than a Jaguar or a Turkish horse hair brush. However the finish is not a good indicator of how good the brush actually is, as the two Turkish brushes have proven.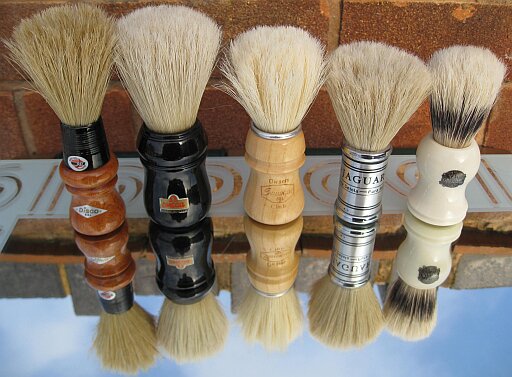 So what is it like to use? Well to start with it is pretty smelly so it might have been an idea to shampoo it a couple of times before initial use, also it is a bit of a shedder to start with, nothing too bad but maybe half a dozen hairs in the first shave. The brush has a relatively small contact area which, combined with the very long handle, makes it very "pointy". Once the bristles are wet the brush becomes quite floppy, which works well with the shaving creams which dominate in India. You could easily see this brush being used in a barber's shop.
So should you buy one? Well at the price I paid it would be interesting and fun, but in my opinion the best cheap boar brush is still the Jaguar and the best cheap brush overall is the Turkish horse hair brush. And for just a little bit more you could have a Frank Shaving Finest Badger or a Vulfix 404 boar/badger mix, both of which are in a different world.