Many of you will recognise the picture above of some old shaving brushes I have picked up on my travels. I decided it was time to do something about them and as I am all thumbs this meant finding someone for the restoration job, so I contacted Fido again. He told me that "beejay", who was making my custom Yew brush at the time, would also be the best man for any restoration job.
So I sat on my hands and waited for my custom brush to arrive, after it did and I saw what a fantastic job "beejay" had done I emailed him: "….which brush do you think is the best candidate, perhaps the "Rooney" on the left of the back row or the tall brush with the dark bristles in the middle of the back row? Is it best for me to buy my own knot from TGN or for you to supply one? If the former then I need to send you the brush first so you can tell me what size to buy."
He emailed me back: "….Re restoration, either or both would probably restore very nicely. I charge £20-£25 plus the knot at cost so it's probably best if you choose your preferred knot from Tony. (The charge depends on the amount of work required) they can be slow going at times these old brushes! Once I get the old knot/s out, I can let you know the size required and you can order from him. Let me know if/when you're ready." So I went and took some picture of both of the brushes so you can see the "before" condition. Then I posted them to "beejay".
There were two things that I decided to explore here. One was to increase the diameter of the knot in the Boots (Rooney?) the second was to try and source my knots from someone other than The Golden Knib, just to see what variety was in the market. One supplier I looked at was iKon who sell the same knots that they use in their custom brushes. Here is how they are described on the iKon website: "Classic Chubby Size – Short Loft – 24mm knot, 45mm height – these are hands down the highest quality loose knots you can purchase w/o having them custom made yourself. Use for brush restorations or when making your own shaving handles"
Once he had received the brushes "beejay" emailed me: "I'm hoping to make a start on the two brushes this weekend so should be able to let you know the hole size and depth. I think I'll be able to enlarge the Boots one to accept a 24mm knot but it depends on the condition of the material inside. Does the Ikon height of 45mm include or exclude the height of the plug? The tall brush is in a sorry state. I don't know yet if the inner filling which is a plaster of sorts will be stable after I get the old knot out. I may need to take it all out and replace with an alternative fill. The wood base is also in a sorry state so it would probably be easier to make a new one, unless you particularly want the old one left in which case I can take it back a bit and re finish it. You're likely to lose the stamp on the bottom though so that alone almost suggests a new one could be the way to go. The edges are also pretty chewed up. Your decision of course and we can discuss properly after I've actually done some done some work on it. Please don't order the new knots until we see what condition the handles are in after removing the old ones."

He followed this up a couple of days later with: "Had a good look at the brushes today, but haven't removed the old knots yet. The Boots one is fitted with a 19mm knot but could accommodate a 24mm and although the hole would be quite a bit wider It should still look in balance. The other Brush is fitted with a 24mm knot as per the one in your Yew brush. The Ikon knot you're looking at with a total height of 45mm will therefore eventually fit both handles so you can see it in both before you decide on final placement." So I ordered the iKon knot.
For the second knot I decided to try and buy one from Frank Shaving, so I emailed Ian Tang. He emailed me back and told me that not only would he do this for free, he would build the knot to my exact specifications. I thought about this and the truth is that the knot in my original $9.99 Finest Badger is just outstanding, so I asked Ian if he could please replicate this but with a 24mm diameter.
"Beejay" soon gave me a progress report on the Boots (Rooney?) butterscotch: "Old knot removed from your Boots brush, cleaned the inside and widened the hole to accept a 24mm diameter knot as you requested. I've also taken the hole down to a depth of 18mm but this can be filled or made deeper to suit. I've attached some pics including one with a knot to give you an idea of how it could look. It's a 70mm x 24mm set at 52mm I'll wait til you tell me knot loft for this one before I start cleaning as I may need to re-chuck it to alter the hole depth and that could mar the surface slightly."



This was followed by an update on the other brush, which turns out to be a Rubberset: "Thought you might like you see the Rubberset brush to date. Old knot now completely removed and I've removed all traces of the original filler and glue from the inside. The wooden plug/ base will be replaced probably in Beech. I thought about threading it to fit the other part but not advisable as its likely to swell when wet. I think the threaded part was a universal component to accept the multitude of bases this company turned out and and wooden parts would just have been jam fitted. Nice to see how they were put together though. I'll use the new plug to form the base for the new knot you supply so I need to know now if possible before I turn this, what loft you want the new knot to be set at. It will accept a 24mm base as I mentioned in my earlier e-mail. Meanwhile, I'll start the cleaning process and see what need to be done to bring this back to best possible condition. I'm going for a full, back to new if possible restore with this one, where as the Boots one will be more sympathetic due to the Butterscotch ageing."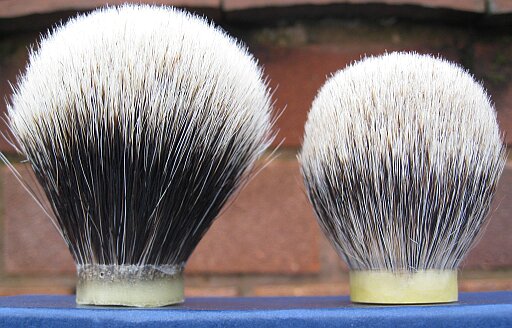 Eventually the parcels arrived from Thailand and China with two beautiful knots in them, and look at just how different they are from each other. Holding them against each other they have identical diameters at the base, but look at them side by side and you can see the enormous differences. These are going to make two very interesting brushes.


Once "beejay" had received both knots we had to decide which knot went in which handle. He emailed me with the above photos and the following: "The Ikon knot is showing sitting on the base of its plug, any deeper and it really pulls the hair very tightly together and I think the brush would be too firm. Even a couple of mm would make a difference with this knot. My suggestion would be to set it as it shows but your decision of course. The Frank knot is set around 48/49 in both handles and looks nicely balanced. At that loft I would hope it wouldn't be too floppy for you. I can of course set it higher/lower in either handle if you wish. I haven't turned the new wood base for the Rubberset yet as the height of this (The bit that goes into the black upper part) will be governed by the knot you decide. For what it's worth, I like the look of the Boots/Frank combination. Purely personal opinion as they look pretty good whichever way you go." He is the expert so I took his advice.
"Beejay" then got on with the job and sent me the above photos along with the following: "I've got the new handle done for the Rubberset and I've polished the Boots handle ready now to set the FS knot. The Boots will be set at 48.5mm loft as per the attached photo. The Rubberset is pretty much to the depth of the plug. The new handle is made from old seasoned Beech and I've given it just a hint of colour but not as yellow as the old one. The old handle was varnished and the new one has been sealed with 2 coats of thinned melamine and the given a further 2 coats of regular melamine. It'll get another two coats before it goes out to you, probably Wednesday. The final finish will be closer to a satin finish, not a high gloss unless you want a gloss? I would ask you to give the Rubberset a further 72 hours just to let the melamine fully cure." So it was only a few days away from getting my brushes back.




So now I have these two fantastic, unique brushes. The Boots (Rooney?) brush is a much valued "butterscotch". The handle was made from a phenolic plastic called Catalin which was widely used between 1938 and 1946. It was originally white and has assumed its current colour because the phenolic resin is converted gradually into phenyl alcohol, which is brown, when exposed to ultraviolet light. The Rubberset brush is possibly even older, the company was set up in 1873 and patented their "Genuine Rubberset Process" in 1878, they made very large quantities of shaving brushes in Newark NJ but today they are primarily a paint brush manufacturer and have given up on shaving..



So what have we got here? If you look at the picture of the two knots side by side and then look at the two finished brushes you will see that the Frank Shaving knot in the Boots handle seems to have shrunk, this is because beejay has mounted it deeper within the handle. This has made for a very interesting brush, it has all the superb qualities of a Frank Shaving Finest Badger brush but with a couple of bonuses. The bigger knot at 24mm means there is just more of everything and the deep mounting gives it more backbone. The iKon knot in the Rubberset also has lots of backbone, but this time it comes from a combination of sheer density, the bulb shape of the knot and the 24mm knot diameter.
You may think that the move up from a 20mm to a 24mm knot is not much but a 20mm knot is 314 square mm in cross sectional area whilst a 24mm knot is 452 square mm. So it is 50% bigger. Add to that the fact that it can support a higher loft (everything else being equal) and you have a significantly bigger brush. This explains the way Simpson's and Rooney prices ramp up so steeply with size.
In use these two brushes are surprisingly similar to each other, far more so than a cursory look at the knots would have you believe. They are both equally soft at the tips, they both load and release lather much the same and they both paint the same sized swathe across the face. The difference comes when you push the brushes in towards the skin, here the Frank/Boots combination is a little bit more of a mop, and with the Rubberset/iKon combination resistance is met a little earlier. But they are both fantastic pieces of kit and are superb additions to my little collection of brushes.
So there you have it. For not much money you can bring a beautiful old brush to life and in doing so create something that is unique and special that will give decades of luxurious use.